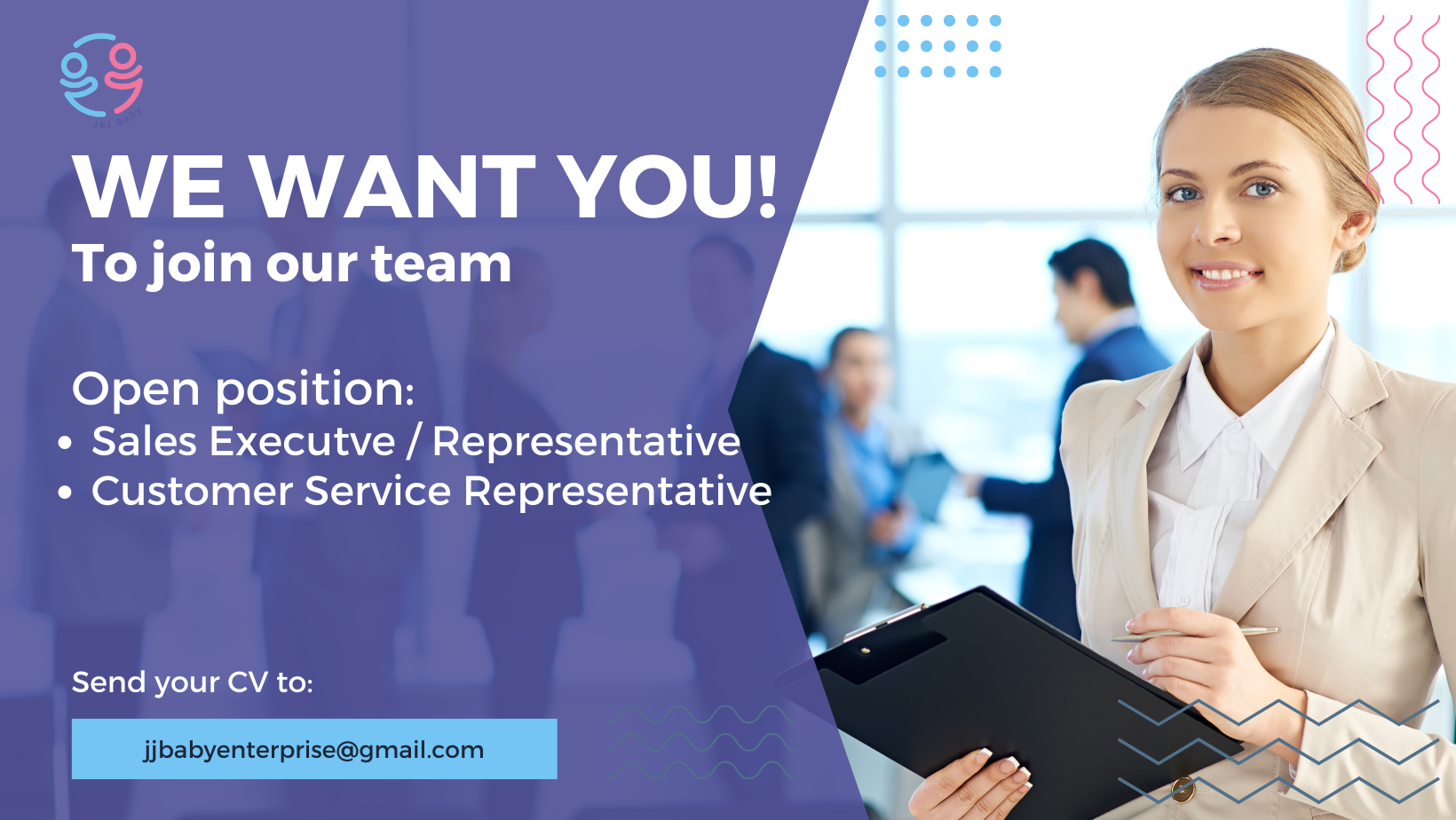 Join Our Professional Eco-Friendly Mother & Baby Team!
Passionate about delivering quality products with a focus on sustainability? Step into the world of the mother and baby industry and become part of our thriving company.
At J&J Baby Sdn Bhd, we pride ourselves on our commitment to eco-friendly practices and exceptional product standards. Join our team of professionals dedicated to making a positive impact.
Whether your expertise lies in design, marketing, customer support, or supply chain management, we offer diverse opportunities for growth and development.
If you're ready to make a meaningful difference while advancing your career, apply now and embark on an exciting journey with us. Together, let's shape a brighter future for mothers, babies, and the planet.
_____________________________________________________________________
Job description
We're Hiring: Dynamic, Experienced, and Results-Driven Sales Talent!
Are you a driven sales professional who thrives on creativity, innovation, and achieving targets? If so, we have an exciting opportunity for you to join our small but growing company as a Sales Talent. Bring your expertise, dedication, and passion for success to our team and make a significant impact in the world of sales.
Responsibilities:
Develop and execute a comprehensive sales strategy to drive business growth in the mother and baby product line.
Identify and engage potential clients, build strong relationships, and close deals.
Stay up-to-date with industry trends, market conditions, and competitor activities.
Collaborate with cross-functional teams, including marketing and product development, to drive sales initiatives and ensure alignment.
Attend industry events and trade shows to promote our products and expand our network.
Track and report on sales metrics, performance, and market insights to support decision-making processes.
Utilize your deep understanding of ecommerce to drive sales and expand our online presence.
Manage B2B and B2C (ecommerce platforms).
Requirements:
Proven experience in sales or business development.
Willing to learn.
Willing to travel (occasionally).
Strong knowledge of the market, customer needs, and emerging trends.
Excellent written, communication and interpersonal skills to establish and maintain relationships with clients.
Results-oriented mindset with a track record of meeting or exceeding sales targets.
Self-motivated and adaptable to a fast-paced and evolving environment.
Proven experience and familiarity with ecommerce platforms, preferably in a sales capacity.
Basic/Strong knowledge of ecommerce trends, best practices, and industry standards.
Proficiency in utilizing ecommerce tools, analytics, and sales reporting platforms.
Diploma/Bachelor's degree in Business, Marketing, or a related field is preferred.
Fresh graduates and entry-level candidates are encouraged to apply.
Proficiency in English, Malay, and Chinese is required.
Job Highlights
Attractive remuneration, salary and commission
Outstanding career growth and development opportunities
WFH / Remote-Based
How to Apply
If you are passionate about sales, eager to make a difference, and thrive in a fast-growing environment, we want to hear from you!
Please submit your resume and a brief cover letter explaining why you are interested in joining our team and how you can contribute to our success.
Email your application to jjbabyenterprise@gmail.com.
Please include your expected salary in your application.
We look forward to reviewing your application and embarking on this exciting journey together!
_________________________________________________________________
Job Description:
This is a remote-based (work from home) position, offering flexibility and convenience for the right candidate. If you have a passion for delivering outstanding service and are fluent in Chinese, Malay, and English, we want to hear from you!
Position: Customer Service Representative / Specialist (Remote-based)
Location: Work from home (Malaysia)
Responsibilities:
Respond promptly and professionally to customer inquiries via various communication channels, including phone calls, emails, and social media platforms.
Provide accurate product information, address customer concerns, and resolve issues in a timely manner to ensure customer satisfaction.
Assist customers with order placement, tracking, and delivery updates.
Handle and escalate customer complaints or complex inquiries to the appropriate departments.
Maintain customer databases and update customer information as needed.
Collaborate with cross-functional teams to ensure a seamless customer experience.
Identify opportunities for process improvements and contribute to enhancing the overall customer service strategy.
Requirements:
Excellent verbal and written communication skills in Chinese, Malay, and English.
Proven experience in a customer service role, preferably in the retail or ecommerce industry.
Strong problem-solving skills and the ability to handle difficult customer situations with empathy and professionalism.
Good organizational skills and the ability to multitask in a fast-paced environment.
Proficient in using customer service software, and MS Office applications.
Positive attitude, patience, and a customer-centric mindset.
Ability to work independently and collaboratively as part of a team.
Prior experience in the mother and baby products industry is a plus.
At J&J Baby, we believe in work-life balance and understand the importance of flexibility. As a remote-based Customer Service Representative, you will have the opportunity to work from the comfort of your own home while still delivering exceptional service to our customers. Join our team and be a part of our mission to provide the best products and support for mothers and babies.
Remuneration:
Basic Salary + Commission + Benefits + Training & Development
To apply, please send your updated resume and a cover letter highlighting your relevant experience to jjbabyenterprise@gmail.com. We look forward to reviewing your application.Please include your expected salary in your application.
Note: Only shortlisted candidates will be contacted.